Diaphragm Seals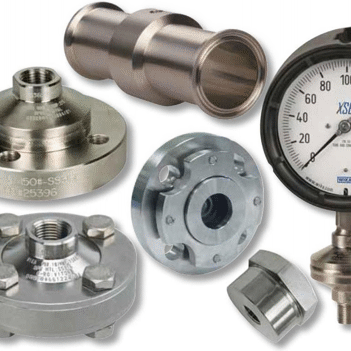 A diaphragm seal is a flexible product that seals and isolates the gauge. The flexible nature of this seal allows pressure effects to cross the barrier but not the material being contained. Do you need it? If your media is not chemically compatible with the limited metallic offerings of the bourdon tube pressure gauge, or has high solids content that might gum up a tube or solidify at low temperature, you may need a diaphragm seal between your media and the gauge.
Diaphragm seals consist of an upper plate, a lower plate, a diaphragm between them, and a fill fluid that transfers the pressure from under the diaphragm into the pressure gauge above. Metallic diaphragms have very little displacement which dictates that the fill fluid cannot have entrained air. The fill fluid must be prepared and the seal filled at high vacuum, which precludes filling in the field. Exotic wetted parts are available including 316SS, Tantalum, Titanium, Monel and others.
We are your authorized WIKA filling station. Contact us at 440-835-3440 or via the
website
and let us help you find the right solution for your business.